Toyota Pledges $1 Million to Help Texas Families | Harlingen, TX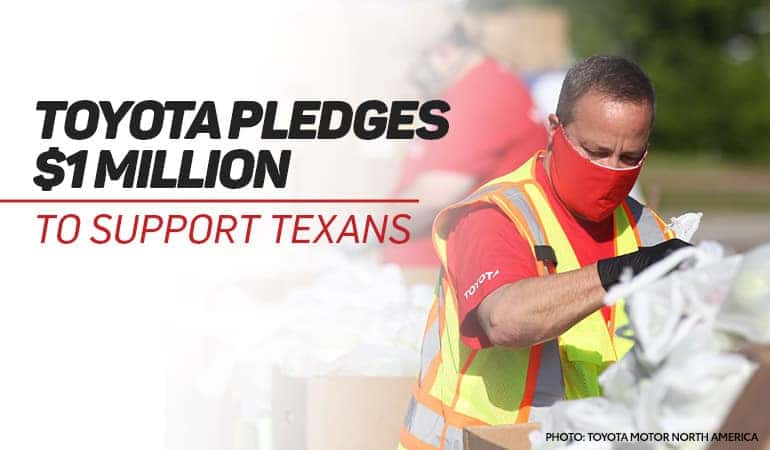 The winter storm that hit the Lone Star State back in February of this year affected many of us across the state. That is why we at Bert Ogden Toyota are so grateful to be a part of the larger Toyota family because Toyota is a company that helps those in need.
When brutal winter storms ravaged our communities, Toyota Motor North America (TMNA) pledged $1 million to aid in relief efforts. Not only is Bert Ogden Toyota located here in Texas, but the North American headquarters of Toyota is also located up north in Plano, Texas. This storm is truly something that hit home with Toyota employees and customers all over.
The money went to a variety of Texas-based nonprofits to distribute direct relief to families in need. First and foremost, Toyota distributed money to the United Way of Metropolitan Dallas. In addition, Toyota donated $200,000 to food banks all across Houston and North Texas and another $200,000 to the Let's Help SA Fund, which targeted relief to the San Antonio area in the form of water, food, and shelter.
Further, Toyota pledged to match up to $10,000 in individual employee contributions to nonprofits in Texas.
"We take our role as community leaders seriously, so when winter storms affected millions right in our backyard, our top priority became helping Texas get back on its feet after this ordeal," said Sean Suggs, group vice president of Social Innovation, TMNA. "Texans have supported our company in myriad ways, and we want to help our neighbors emerge from this storm stronger than ever."
We at Bert Ogden Toyota in Harlingen, Texas, are proud that Toyota has reached out to help the people of Texas.